Hongping, in Jishou City of Hunan Province, is a Chinese traditional ancient village and new popular site on the Internet.
Hongping was originally a very remote Miao village, and is a typical village of the Jilue Township of Jishou City. It neighbors Lyudongshan Town of Baojing County but there was no roads between them.
In 2020, Hongping saw great improvements in traffic infrastructure. With the Guzhang-Jishou section of Yongshun-Jishou Expressway open to traffic, it now takes just half an hour from Jishou to Hongping Village. When Hangsha-Jishou Tunnel opened to traffic, Hongping Village was connected with Aizhai-Shibadong-Dehang Grand Canyon Scenic Area, a national 5A tourist attraction, making the village's tourism advantages more prominent.
Hongping has well-preserved traditional Miao residences and its local people have a good awareness of protecting the environment, traditional dwellings and customs, providing excellent conditions for the village to engage in the tourism industry.
Hongping's tourism mode is representative of surrounding villages and Xiangxi as a whole.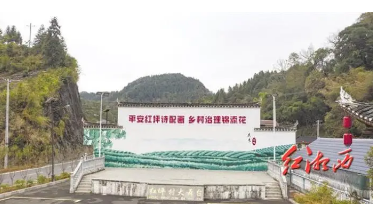 In 2021, the village was identified as a rural tourism demonstration site. It developed two leisure tourism routes and a modern leisure and sightseeing agricultural industry chain based on its rich natural resources. The village also improved its tourism infrastructure and supporting service facilities for leisure, local experience, holiday entertainment and healthcare.
This April, Hongping Village's Miao ethnic agricultural products sales display area was put into operation to meet visitors' needs for catering, leisure and the purchase of agricultural products. During the May Day Holiday, Lingshuige Holiday and Leisure Base was put into operation, offering tourists beautiful natural scenery, tea tasting, fishing, camping and BBQs. Hongping Village has planted over 5,000 Chinese flowering crabapples along the two sides of the main road, which has gone viral on the Internet, attracting a large number of tourists.